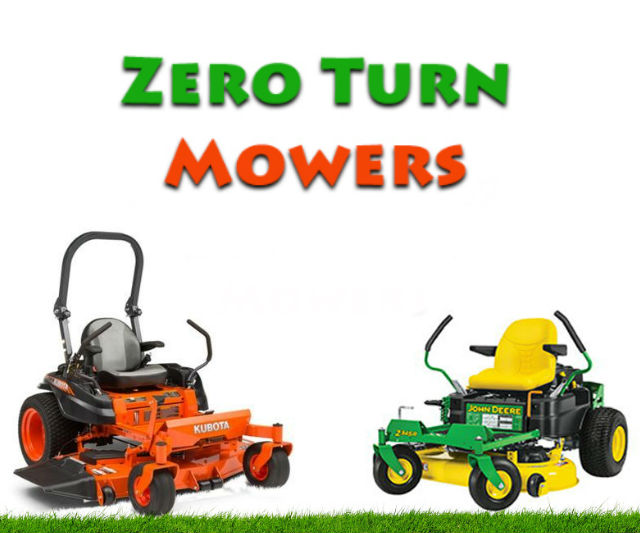 Residential Zero Turn Mowers
While some might not considered zero turn mowers a tractor I figured I'd do a wright up on them anyway. Oddly enough both Kubota and John Deere have released new Zero Turn mowers in the past few months. If you have ever used a zero turn mower you know that there is nothing like when it comes to mowing. Honestly I think zero mowers can save you about half the time compared to traditional mowers so that's gas and time which in the long run makes the higher price worth paying.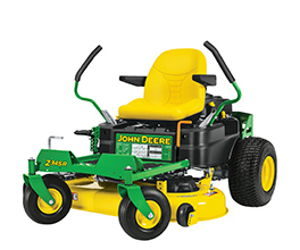 John Deere has added a new line of Z300 series under $3,500 which is a moderate to high price for a mower in my opinion. You got the Z335M, Z345M, Z345R, Z355R and Z375R each that preform well when mowing at higher speeds. John Deere claims that the improvements on the step-up model additions to the ZTrak Z300 series will improve the cutting quality, easy-to-use ergonomic controls, enhanced engine performance, and features aimed at upgrading comfort.
The new Z300 series mower decks will be available in 42 inch, 48 inch, and 54 inch cutting widths and will provide better grass dispersion and improved cutting quality at faster speeds than previous models. They will all use the Accel Deep mower deck that was introduced in 2016 which is compatible with John Deere's MulchControl kit that allows operators to quickly switch between side discharge and mulching with the flip of a lever. For a smoother ride some models offer a wider tire option and a foot operated deck lift option that allows for quick and efficient engagement of the deck without having to get off the mower.
As far as horsepower the new ZTrak Z300 series got an upgrade in engine performance ranging from 20-25 HP depending on the model. There was also a seat upgrade for enhanced comfort and improved ergonomics. The new seat no longer requires a tool for adjustments which makes it easier to adjust when needed.
Commercial Zero Turn Mowers
As John Deere's new zero turn mowers are geared towards the residential user Kubota's new zero turn mowers are geared a bit more towards the commercial users. Kubota recently released a new Z400 series of their zero turn mowers. Humm sounds similar to the John Deere's Z300 however the number/names may look, Kubota did release their version a few months earlier not it matters because with this line up Kubota is focusing more on the commercial crowd.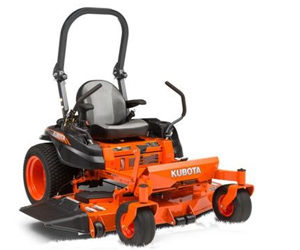 The new Kubota Z400 line up consists of the Z411KW-48, Z421KW-54, and the Z421KWT-60 that are all powered by a Kawasaki FS gasoline engine. As you can see the widths of each by the last two digits at the end of their names and range from 48 to 60 inches wide which is perfect for landscapers. The new series of Kubota zero turn mowers is adding a new modern design and class leading speed along with performance and durability or commercial grade mowers.
A commercial grade mower with all the bells and whistles at an affordable price. The new Z400 series uses Hydro Gear's commercial ZT3400 transmission to provide the optimum combination of speed and torque. The Z421-KWT-60 and the Z421KW-54 mowers use a 24 horsepower Kawaski FS gasoline engine with all modeling having a 6.8 gallon fuel tank. Large, low-profile tires help provide superior cutting performance through dense turf and across hilly terrain according to Kubota.
Each of the mowers in the Z400-Series is designed with a thick and durable tubular steel frame for strong and stable operation. Each model features a 10 gauge, five-inch deep, fully-welded deck for superior grass-cutting performance. And the Kubota K-Left deck height adjustment system allows for quick, easy cutting height changes with the turn of a dial and press of a petal.
Do you own a Zero Turn?
Do you own a zero turn mower and if so how about sharing your thoughts. Let us know your make and model, how long you've had it and how has it stood up to the test of time! Compare it to a traditional mower if you've owned both.
Share