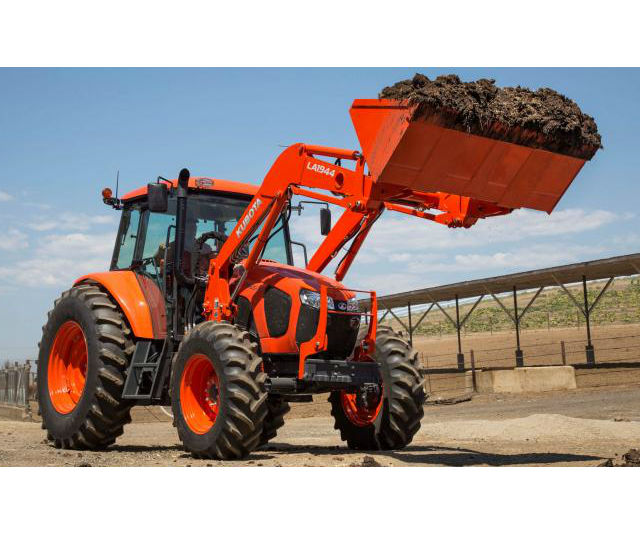 Ideal for Small to Mid-Sized Operations, the M6S-111 Provides Value, Power and Performance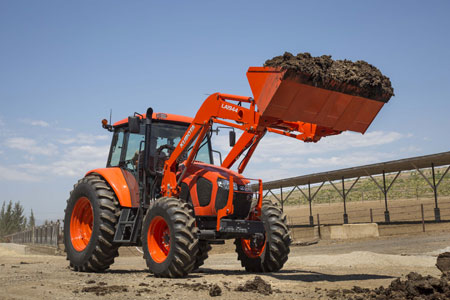 GRAPEVINE, Tx., (Apr. 18, 2017) – Kubota Tractor Corporation introduces the latest member of the M-Series, the M6S-111 diesel tractor. Combining Kubota power and performance with economy, the M6S-111 is an ideal solution for cattle producers seeking a single tractor suited for the full range of cattle and hay operations, loader work, mowing and more.
"The M6S-111 tractor is designed for the small to mid-sized producer who values those important 'big tractor' luxuries and features, like the Kubota Swing Shift that delivers multiple speeds controlled by a single lever," said Kent Brown, Kubota senior product manager, ag tractors. "This new tractor fits perfectly into Kubota's M-Series line of tractors; it is flexible enough for any job in the hayfield or pasture."
The M6S-111 features technology-driven Kubota diesel engines matched with transmissions equipped with Kubota's exclusive Swing Shift feature, providing easy shifting from the ergonomic operator station. High-performance hydraulics makes the M6S-111 ready to accept implements requiring multiple valves. The M6S is offered in the four-wheel drive M6S-111SHDC and M6S-111SDSC and the two-wheel drive M6S-111SHC. The M6S-111 replaces the M108S in the series.
Unbeatable M-Series Power
The M6S-111 features a durable Kubota-built V-3800-Tier IV diesel engine. Rated at 114 HP* and 95 PTO HP**, the M6S-111 can be performance-matched with a complete line of Kubota disc mowers, hay tedders, rakes and BV-Series balers. Constant RPM management memory minimizes repetitive actions, adding performance efficiency in applications like front loader work. The engine features a common rail fuel system, intercooler and exhaust gas recirculation, while employing a diesel particulate filter (DPF) and a selective catalytic reduction for minimized emissions.
Transmission Versatility For Easy Operation
The Kubota M6S-111 transmission brings economical, top-of-class versatility required across the full range of haying applications and cattle farm chores. The Swing Shift 16F x 16R transmission comes standard on the M6S-111SHDC and M6S-111SHC. The Swing Shift actuates the electric over hydraulic range shift to provide eight speed options through a single lever control, giving the flexibility needed for load increases, hay tool operation and travel across varying field conditions. Eight additional speeds are activated with the auxiliary range lever, conveniently positioned to the left of the tractor seat. A dealer-installed creep option adds eight slower speeds to the 16F x 16R, for a total 24F x 24R. The Swing Shift Plus, standard on the F32 x R32 transmission in the M6S-111SDSC, makes 16 speeds available through a single lever control. An optional creeper ads 16 additional speeds for the M6S-111SDSC, bringing the total gear selection to 48F x 48R.
Ergonomic Operator Station
The M6S-111 is ergonomically designed to make the operator more comfortable during long days of hay applications and farm chores. The front loader joystick control operates with exceptional smoothness and responsiveness. The steering wheel tilts up to a 41-degree angle, allowing easier operator entry and exit into the ergonomic seat.
High Performance Hydraulics
High performance hydraulics makes the M6S-111 ready to accept implements with multiple valves. Two rear remote valves are standard, one self-cancelling detent valve and one float detent valve, with an optional third remote valve. The internal cylinder 3-point lift system is standard, and an external cylinder option rated up to a 2600-lbs. 3-point lift capacity.
Kubota's new M6S-111 hay and cattle tractor is available at dealerships now. A registered Kubota dealer locator is available at Kubota.com.
*Engine HP @ Rated Engine RPM (According to 97/68EC)
**PTO Power @ Rated Engine RPM (Manufacturer's Estimate)
Share