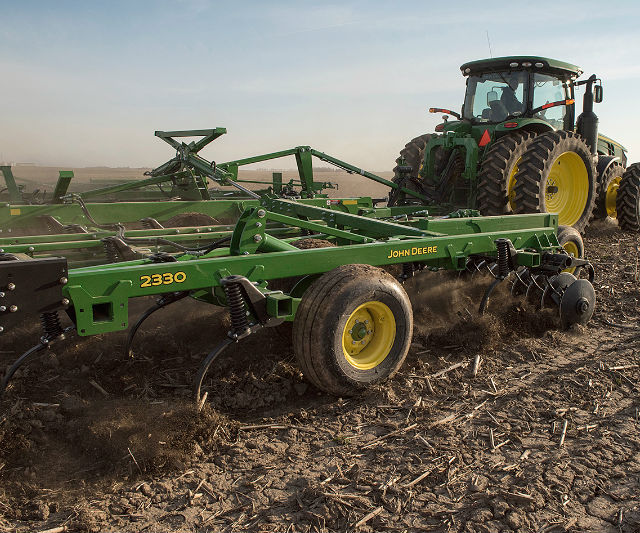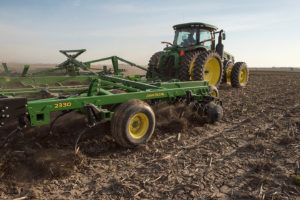 It appears John Deere has 2 new attachments they introduced last month, the 2230 Field Cultivator and the 2330 Mulch Finisher. The goal of these two new implements is to help speed up the preparation process for seedbeds. These are next gen secondary tillage attachments designed to work smarter  and more effective with excessive amounts of leftover crops at a speed up to 10 miles per hour! To meet producers needs John Deere extended the working widths and operating speeds along with a number of finishing attachments for those that like that perfect look.
The 2330 Mulch Finisher comes in 9 different sizes to a max of 56.25 feet. With that much width and speed completing those large fields will take no time.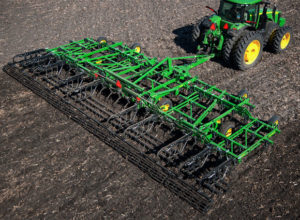 As for the John Deere 2230 Field Cultivator they redesigned the frame with special tires that are stubble resistant and no maintenance points. With 6 inch split in the middle shank spacing and 200 pounds of trip force the John Deere 2230 Cultivator give an even and consistent ground mixture and residue flow.  Choose between a three section or five section configuration in a good number of sizes that start at 23.5 feet and max out at 60.5 feet in width if you have easy rolling or level ground. However for more hilly type environment they have options ranging from 25.5 feet to 69.5. Thanks to the width, speed, and power of this utility producers can cover an area up to 217 more acres in a 10 hour day compared to previous models.
A few other features that both of these new attachments are equipped with is the John Deere ProFinish Leveling System and 6 rear harrow options. For that easy operation of raising and lowering of the baskets there is the Hydraulically adjustable flat bar or round bar rolling baskets. The exclusive TruSet Tillage technology that allows for more precise depth and down pressure control. With all these new features the driver never needs to leave the cab till the job is done.
For more information on these attachments please check out John Deere's site.
Share