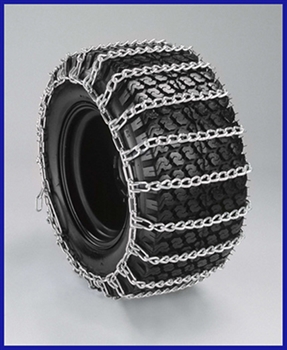 Snow Chains For Any Tractor or Skid Steer Tire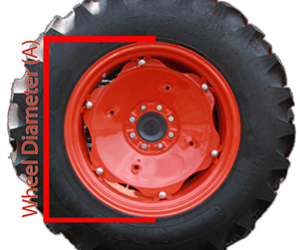 Tractor snow chains come in many different sizes, here you can find the right snow chains for your tractor. We have an extensive collection of over 200 tractor snow chains in different sizes with different features. We can get you the right snow chains for your machine whether you are driving in extremely harsh conditions, or trying to improve traction in ice and snow without damaging asphalt. The chains we offer are easy to install, and we have a full selection of adjusters and tools to leave your machine with a great functioning set of chains that looks professional.
All of the prices shown here include a pair of tractor snow chains shipped inside the continental US, if your chains require motor freight, home or farm delivery could be extra. To begin please select the rim diameter for the tractor tire you are shopping for, then you will be asked to select the tractor tire size. Once you select the tractor tire size you will be shown all available snow chains for your tractor tire size.
Selecting Snow Chains
4.00 in.
5.00 in.
6.00 in.
6.50 in.
7.50 in.
8.00 in.
9.00 in.
10.00 in.
10.25 in.
10.50 in.
12.00 in.
14.00 in.
15.00 in.
16.00 in.
16.10 in.
16.50 in.
17.50 in.
18.00 in.
19.50 in.
20.00 in.
21.00 in.
22.50 in.
24.00 in.
25.00 in.
26.00 in.
28.00 in.
30.00 in.
32.00 in.
33.00 in.
34.00 in.
36.00 in.
38.00 in.
40.00 in.
42.00 in.
44.00 in.
46.00 in.
48.00 in.
Share