---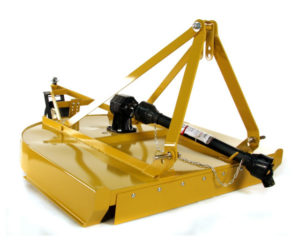 If you need a Brush Cutter than you really need to check out the 48″ XTreme Duty Compact Rotary Brush Cutter. Everything Attachments has an awesome brush cutter that features an 11 gauge steel deck, 3/8″ hitches, and 1/4″ bracing making it a strong cutter that will last. The removable front and rear shielding protects people and property, and keeps materials inside the deck for mulching, or can be removed for easy discharge of thicker material. Weighing around 460 lbs., our compact tractor brush cutter is designed to work perfectly with smaller compact tractors, and allows for multiple positions of gauge wheel adjustment.
Save It


❤

26 saves
View Price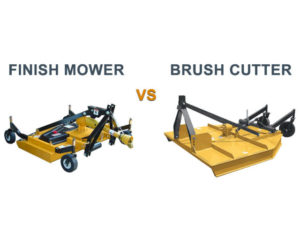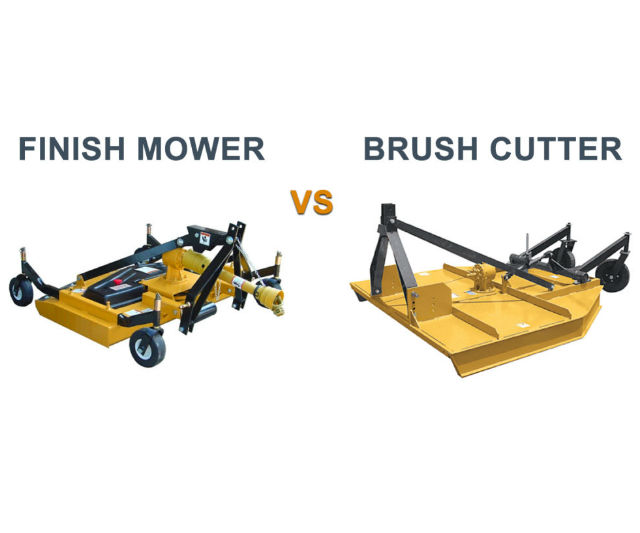 Finish Mower VS Brush Cutter
Which is better a Finish Mower VS Brush Cutter? Well the real question should be "Which is better for certain situations?" They were both designed with specific tasks in mind and each being better than the other at those tasks. Keep in mind that a Finish Mower is like a lawnmower for a tractor. There is a fine gray area where both can be used and result in a tie but before we discuss that lets go over what they were intended for.
Brush Cutters Cut Brush
Brush Cutters are designed to do exactly as their name implies and that's to cut brush. Not only brush but brush cutters can also be used on small trees around 1″ to 3″ in diameter, tall weeds, undergrowth, saplings, vines, briers, and fallen branches. If you have a field or large area that you need to clear off that consists of a lot of overgrowth than a brush cutter is the way to go.  Brush cutters also called rotary cutters use heavy thick blades and whacks through vegetation using the momentum and the force of the blades. On the other hand a Finish Mower relies more on the sharpness of the blades to cut through grass.
Finish Mowers Make It Look Good
Finish Mowers are basically lawn mowers attachments for tractors. They give a lawn that nice clean finished look with evenly cut grass. Finish mowers are designed with sharp blades made to cut grass not sapling. You wouldn't want to run a finish mower over anything you wouldn't run a lawn mower over or you take a chance on dulling the blades.  If you have an overgrown lawn with lots of tall weeds and small saplings then your best bet would be to use a brush cutter first then use a finish mower to give it that finished look.
Which Is Better A Finish Mower VS Brush Cutter
If you happen to be in a position where you are asking yourself the question "Which attachment do I need?". Consider what you'll be using it for. If you have a thick field that you want to clear off every other month or when it starts to look over grown then a brush cutter would be an easy chore of it. If you have a large yard that you want to keep mowed and looking nice for the neighbors or your wife tells you to then a Finish Mower is highly recommended.
Save It


❤

4 saves
View Price