---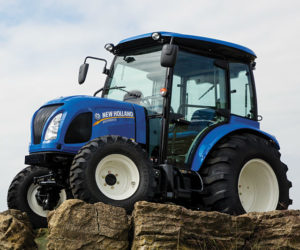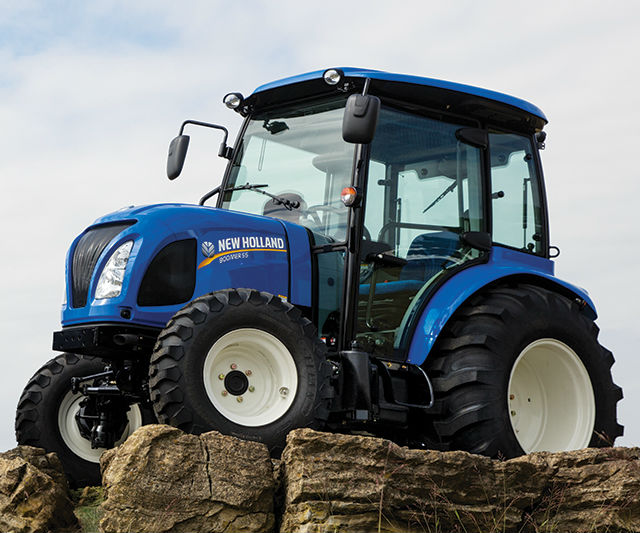 New Holland Agriculture revitalizes its product offering in 2017 with new Boomer and Workmaster lineups complete with an all-new Boomer model, the Boomer 55, which will debut at the 2017 National Farm Machinery Show and World Ag Expo in February. Each model is designed to provide more horsepower and includes Boomer Guard6, a warranty package for 6-year worry-free operation, including two years of bumper-to-bumper coverage plus an additional four years of powertrain protection.
"The new Boomer and Workmaster tractors deliver the features and performance compact customers are looking for, whether it's managing simple chores or loading and leveling," said Michael Cornman, New Holland's Under 140HP Tractors Segment Marketing Manager. "Whether customers choose the premium featured Boomer or the value drive Workmaster, each model has advantages that set New Holland tractors apart and provide years of dependable, trouble-free performance."
New Holland's new line of tractors are designed to provide a roomy, no-clutter entry and exit, natural placement of controls and pedals, unmatched visibility, clean, fuel-efficient power, and simple maintenance. A Clean Energy Leader, New Holland's compact tractor models help reduce carbon footprints with engines that meet stringent Tier 4 Final emissions standards, while providing increased power with less fuel.
Boomer
The Boomer Series tractors are premium compact tractors known for their quiet, fuel-efficient power, supreme comfort, and easy operation.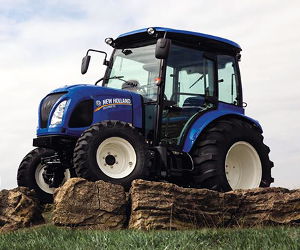 The ultimate power tool for homeowners, Ag-lifestylers, landscapers, farmers, golf courses and municipalities, the Boomer line-up debuts the most powerful Boomer to date, the Boomer 55. The Boomer 55 delivers higher horsepower – 55 gross horsepower – without additional weight for maximum performance and productivity. In addition to accomplishing more in less time, the Boomer 55's higher power-to-weight ratio translates into lower ground pressure to reduce compaction and turf damage.
In addition to the all-new Boomer 55, the new Boomer line-up includes clean-running engines to handle the toughest jobs while saving fuel. The line-up also features a completely automatic emissions system and a high-capacity, dual-pump hydraulic system that provides fast-implement response and steering, along with Boomer Guard6, to provide peace of mind.
Workmaster
The new Workmaster lineup includes two rugged, economical compact tractors – 35 and 40 horsepower – offering more speed choices than competitive tractors, an emissions system that's automatic, and boasts high-capacity hydraulics to deliver a dedicated flow of 8.2 gallons per minute and a three-point hitch lift capacity of 1,807 pounds.
Workmaster tractors have a big-tractor backbone with heavy castings for the engine, transmission and rear axles. A cast-iron block, heavy-duty internal components and proven technology enables the new three-cylinder engines to deliver gutsy, fuel-efficient power. The Workmaster's modern, streamlined styling provides great visibility, with New Holland's signature sloped hood, rounded fenders and sleek, dual-direction lights to provide unsurpassed sightlines in every direction and in low-light conditions.
The 2017 Boomer and Workmaster models, along with the all-new Boomer 55, will be available in the United States and Canada beginning in the spring of this year.
Save It


❤

0 saves
View Price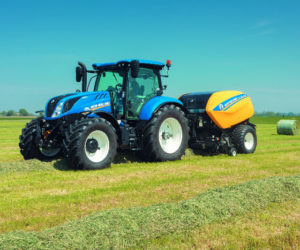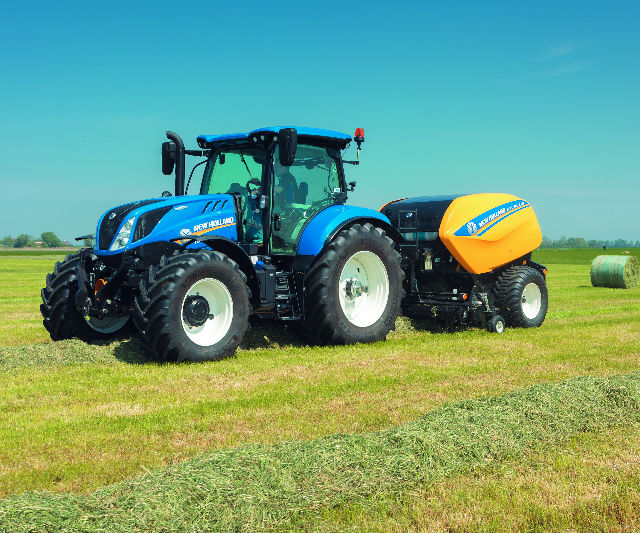 New Holland shows off their new Big Baler 1290 Plus, the Roll Baler 125, and the Roll Baler 125 Combi round baler. They also introduced their new NIR on board sensor techology for FR Forage Cruiser. The Big Baler 1290 is called big for a reason as it's their largest square baler on the market. This baler offers the latest tech features including the IntelliCruiseTM technology for tractor ground speed regulation, and SmartFillTM feed flow indicators for even bale formation.
New Holland proved just how productive the Big Baler 1290 can be with a recent demo. The new baler and T7 Heavy Duty tractor produced an impressive 1254 high quality straw bales in 17 hours over 2 days. It maintained a consistent bale shape, weight averaging 434 kg, and length averaging 2.37 m – hour after hour, day after day.
Square bales no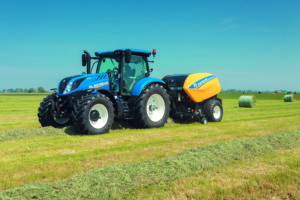 t your thing then check out the Roll Baler 125 and the 125 Combi. The Roll Baler 125 models feature the latest pick-up, which was introduced on the Big Baler and Roll Belt balers. At  2.3 m, it is 300mm wider than the previous model. The five tine bars with double cam drive and the adjustable suspension deliver ultimate feeding capacity and best-in-class pick up efficiency.
The new film wrap system on the Roll Baler 125 Combi (also featured on the Roll Baler 135 Ultra) is unique to New Holland: it has a positive hydraulic feed that can be set to pre-stretch the film to ensure a tight, secure and reliable wrap every time thanks to the bundle arms. The system works with plastic or net with a roller up to 1400mm wide, and three rollers can be carried on board. Wrapper speed is is 20% faster than on previous model, dramatically increasing productivity.
Completing the new and updated baler line up for LAMMA will be New Holland's  updated Roll-Belt variable chamber baler which features the new IntelliBaleTM system.
New technology will also be on offer. New Holland's FR Forage Cruiser can now provide improved information on key crop parameters with the new NIR On BoardTM advanced sensor. Crop moisture and nutrient levels, including crude protein, crude fat, starch, Neutral Detergent Fibre (NDF), Acid Detergent Fibre (ADF) and ash can now be measured with +/- 2% accuracy. NIR On BoardTM  will be available as an option on new machines.
New Holland tractors will feature heavily on the company's stand at LAMMA, ranging from the smallest Boomer tractor to the largest fixed chassis T8 SmatTrax.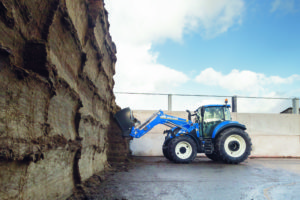 New Holland's T5.120 tractor and winner of Best Utility Tractor of the Year 2017 will be on display at LAMMA. Launched earlier in 2016, the T5 Tier 4B range incorporates a host of new features designed to boost comfort, efficiency and productivity, as well as meet stringent Tier 4B emissions regulations.
Also launched in 2016, visitors will be able to take a closer look at the T6 Tier 4B tractor. The new T6 delivers powerful and highly efficient performance, unmatched operator comfort, improved all-round visibility and exceptional manouverability. The new range offers the ultimate in productivity, tailored to match individual farming operations; it also introduces the New Holland's sleek new tractor family styling.
The latest Tier4B high power tractors including T7, T7 Heavy Duty and T8 will also be on display, alongside New Holland's LM telehandler and a selection of equipment from the agricultural construction range.
Save It


❤

0 saves
View Price