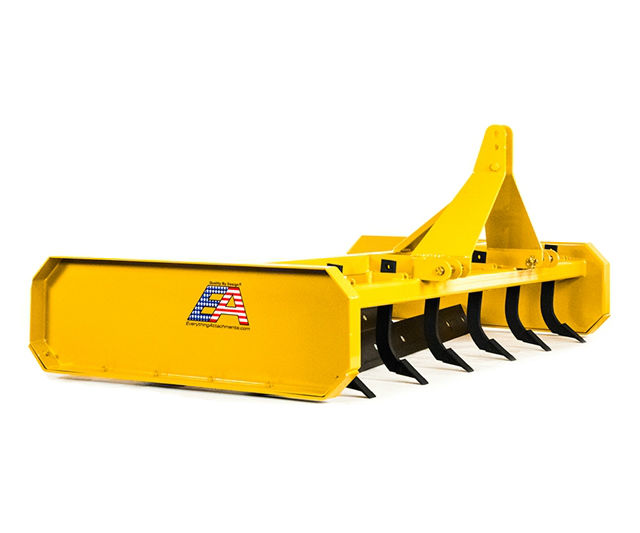 Everything Attachments now has a new version of one of their all time best selling implements which is their Tractor Land Leveler. This version 2.0 has taller sides that raises up the cross tubes to allow for more clearance of dirt and debris. The shanks have also been raised one inch higher for better performance. Another feature that isn't shown in the video or images is that the Blades are now Adjustable!
The name says it all the Land Levelers are the perfect tractor attachment for driveways. Ever had one of those big rainfalls where half your driveway washed away? Land Levelers are great for recovering gravel drives, fill in pot holes or washed out areas. One of the great features about Everything Attachment's Land Leveler is the fact that it has two angled cutting edges on the box which is available in 60″, 72″, 84″, and 96″ widths.  This new version also has Bolt-on replaceable skids which may never need to be replaced but it's a nice feature for that just in case scenario.
There is also a version without shanks for those who don't need them. Land Leveler V2.0 Without Shanks
These land levelers have a standard 3 point hitch that fits a category 1 or 2.  Check out the video below to get a more in-depth look at their new Land Leveler V2.0.
ETA Land Leveler V2.0 Image Gallery
Share