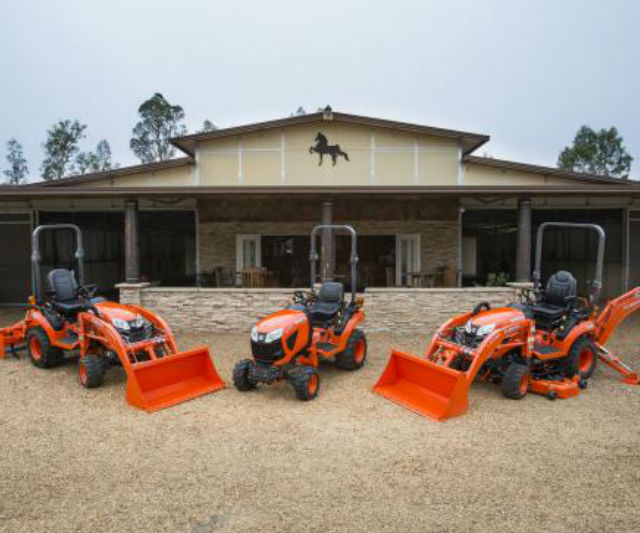 At Kubota's annual dealer meeting in Grapevine, Texas they announced a new Kubota BX80 Series sub-compact diesel tractor. Within this new series includes four new Kubota BX models including the BX1880, BX2380, BX2680, and the BX23S. Kubota is one of todays most reliable and easy to operate tractors on the market. Their unmatched versatility makes them a perfect match for just about any attachment you need and can find at Everything Attachments .
The BX1880 is 18hp, BX2380 is 23hp, and the BX2680 is 25.5hp while they all are equipped with a rollover protection system and conveniently fits through most standard 7ft high garage doors. The BX23S tractor loader – backhoe model also brings 23hp to the table along with it's superior torque. One of the best things about Kubota BX series sub compact diesel tractors are the liquid cooled 3 cylinder engines that not only provides ample power but are more fuel efficient.
BX80 Tractor Loader Implements & Attachments 
The new BX80-Series makes it easier than ever to attach the complete line of tools and implements. The LA344 Swift-Tach loader, offered for the BX1880, BX2380 and BX2680, and the LA340 Swift-Tach loader for the BX23S, can be removed or attached without the operator leaving the operator's station.
Operators can use the single lever hydraulic disconnect on the LA340 and LA344 Swift-Tach Loader to disconnect all four hydraulic lines at once. Kubota Swift-Tach Loader's no-leak grease fitting, with a grease cap that prevents grease from leaking out the side of the pin, will help keep garages, sheds and barns clear from unwanted messes. Flat-faced "no-spill" coupler also helps keep loader storage areas clean when the loader is disconnected. Options on the LA344S and the LA3340S Swift-Tach Loader include a two-lever quick couple, as well as third-function hydraulics, making the front loader even more versatile.
A new 4-point front hitch enables accessories, like blades, brooms and snowblowers to be equipped. A complete line of rear- mounted Land Pride implements, including rear snowblowers, are easily attached with the standard Category I 3-point hitch. All four BX80 tractors include an easy-attach mid-mount mower, available with fine cut or standard cut deck.
Share