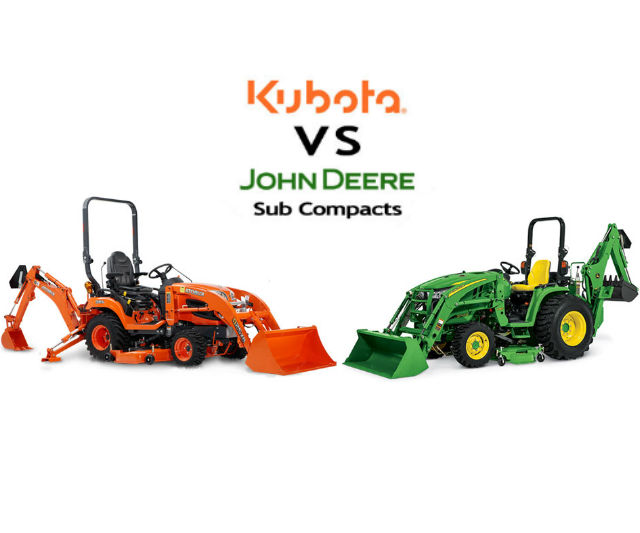 Kubota BX vs John Deere Sub Compact Tractors. Is it a lawnmower? Is it a tractor? Is it a transformer? In the world of sub compact tractors the answer is yes to all three questions as these sub compact tractors are becoming super popular thanks to their versatility and usefulness. Okay so maybe it's not a transformer as the walking talking robots in disguise but when you can take a lawnmower and add a few attachments you basically transform it into a tractor. If we were to be honest attachments is what really makes a tractor a tractor otherwise you would just have a 4 wheel vehicle.
Difference Between Compact and Sub Compact Tractors
I know this article is about the Kubota BX vs John Deere Sub Compact Tractors but first lets do a quick fact check on the differences between compact and sub compact tractors. For the most part size, horsepower, and attachments are the main differences. Sub Compact tractors generally use a two to three cylinder engine ranging between 15-25 horsepower while compact tractors use a three to four cylinder engine ranging between 25 to 45 horsepower. Both the Compact and Sub Compact tractors are great for garden and utility tractors. Sub Compact tractors have a smaller frame and less ground clearance for the purpose of having a mowing deck built underneath where as a compact tractor would need a pull behind mowing attachment.
Of course cost is another factoring difference between the Compact and Sub Compact tractors but that's to be expected. I would have to say one of the biggest differences between Sub Compact tractors and Compact tractors is the range of attachments. Compact tractors use a category 1 or 2 style hitch while Sub Compact tractors use a less common category 0 hitch. Sub Compacts are becoming more and more popular and attachments are becoming easier to find but will still always be limited by there size.
Kubota BX Sub Compact Tractor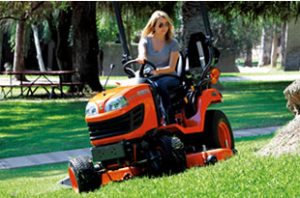 According to Kubota's site the Kubota BX25d-1 features a compact body that has an similar length to a standard garden tractor. It's easy to drive and works smoothly while being gentle to the turf. Diesel engines that are rugged and built by Kubota exclusively for these tractors with 18 to 25.5 horsepower. Horsepower plus traction makes a good combo and the Kubota BX series of tractors has just that with it's rugged sturdy 4 Wheel Drive power. Work more refill less because with that exclusive diesel engine comes a large 6.6 gallon fuel tank.
Lets talk about comfort. The Kubota BX tractors has a deluxe high-back reclining seat with dual armrests and soft cushioning to support the back and legs. The deluxe seat can also be adjusted to move forward and backward to allow for better leg room. On the BX25D the seat is also reversible and perfect for back-hoeing. With a full flat deck layout style and the brake on the left side leaves plenty of leg room. Even the steering wheel position has been re-positioned to provide any operator with better steering and control and of course they didn't leave out the hydraulic power steering, cruise control (optional on BX1870), an easy to read meter panel with LCD display.
Factory standard Bright Halogen Headlights that provide clear and bright illumination for working in the dark. Optional work lights mounted on the ROPS  which is easy to reach from the seat. These lights add more light for those who like to work before sun rise or after sun down. They can also be easily reversed to light up rear. A few other features includes the foldable ROPS, delux lever guide, a 12 volt DC outlet, are among some. However as mentioned earlier a tractor is only as good as it's attachments and the Kubota BX tractors are equipped with a sturdy, hydraulically controlled Category I 3-point hitch that allows you to attach a wide variety of attachments.
John Deere Sub Compact Tractor
Like the Kubota BX the John Deere 1025 Series has a compact body and easy to maneuver. Running a 23.9 hp three-cylinder diesel engine that delivers responsive, efficient horsepower. Johen Deere's trademark Twin Touch pedal controls and hydro-static transmissions for precise speed control and smooth directional changes. The John Deere sub compact tractors are also 4WD with power steering which gives them excellent maneuverability.
T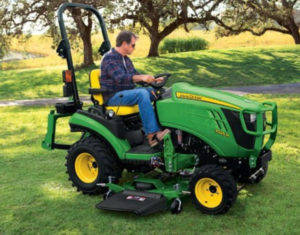 he John Deere H120 loader which is similar to the Kubota BX25d-1 has a lift capacity of 955 lbs and integrated Quik-Park mounting system. A max lift height up to 71.2 in makes stacking much easier. The Quik-Park loader mounting system is another trademark by John Deere that is designed to make it easier to mount and remove attachments without the need of tools.
AutoConnect Deck is also a John Deere trademark. It's a system that was created to make attaching the mowing deck simple and easy by driving over the deck ramps and after you hear it click in just lock the gauge wheel and you're done.
A few other features on the John Deere sub compact tractors are the front weight brackets that allow you to add more weight to add stability when needed, forward lighting kit that includes 2 extra lights that mount above the warning lights on the ROPS. These are not reversible like the Kubota lights for real lighting however John Deere does offer a single rear work light.
Pros & Cons
On John Deere's website they allow customers to review their products and give some pros and cons so figured I'd list a few of them here.
John Deere Pros
very compact
ease of use
So many options
easy to trailer
attachment changes are easy
small size with power
affordable
more powerful than expected
good loader tractor
great little backhoe
nice handling good ride
John Deere Cons
very poor mower deck
smokes black
no anti scalp rollers on deck
trade in value
backhoe controls are touchy and take practice
tires
seat needs work
Kubota BX Pros
Kubota BX Cons
Which Tractor Do You Think Is Better!
Okay so as far as sub compact tractors go which do you think is better?  How about leaving a comment below and let us know which you own or which one you would rather own. As you can see we need some feed back on the Kubota BX Sub Compact tractors so if you have any please share your thoughts. Tell us why you like one over the other.
Share