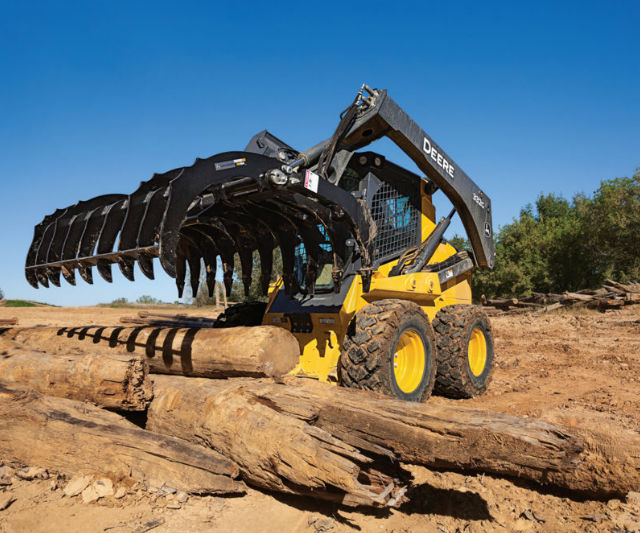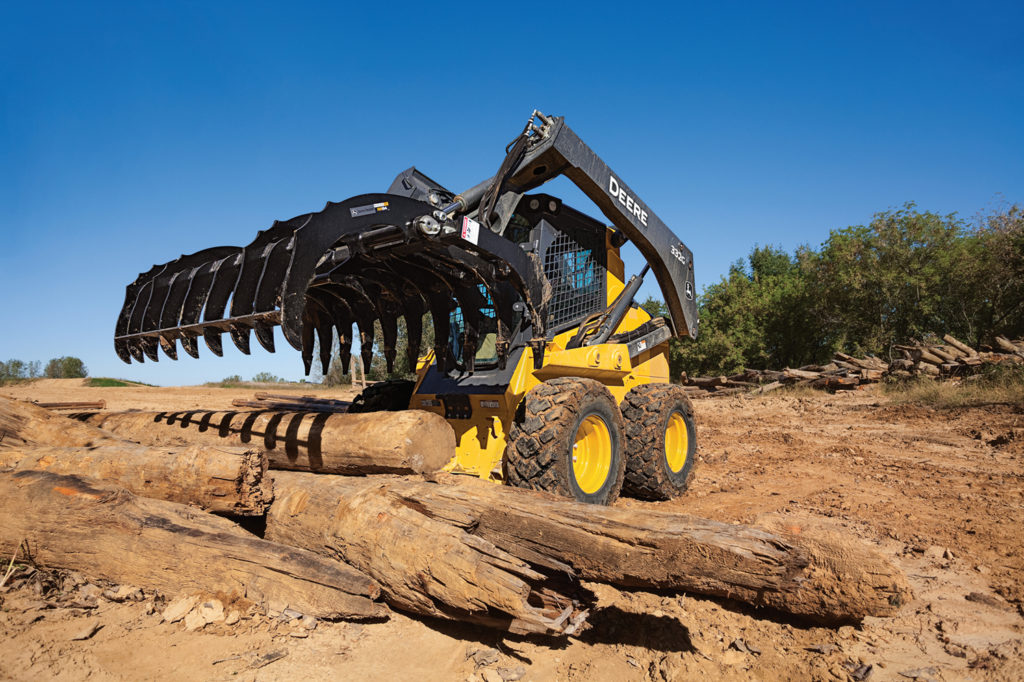 It seems Root Rakes are becoming ever so popular! As of January 26th, 2017 John Deere introduced their new line of Root Rakes that are designed to fit the John Deere G & E series skid steers, their compact tract loaders, and the K series compact wheel loaders.
These John Deere root rakes are great for a number of jobs such as digging up root of course, moving material, clearing all sorts of debris, loading logs just to name a few. One of the benefits of a root rake over a traditional bucket is that they are made so that loose dirt, small rocks and such can be sifted through creating a lighter load and minimal landscape disturbance. This is true for all root rakes not just John Deere rakes. Back to the John Deere rakes, these new root rakes are built with alloy-steel construction, replaceable pin-on teeth and zinc-plated, pivot pins with protected Zerks, these attachments can ruggedly resist impact that any ground materials provide. Another key feature is a weld-on "D" ring that expands the list of job site tasks these root rakes can tackle, such as pulling brush in forestry applications or scrap on a job site.
The new root rakes are in John Deere's Worksite Pro attachment line and are avilable in 72 inch (RR72), 78 inch (RR78), and 84 inch (RR84) widths. The height and width of the root rakes also help shield the fronts of the machines, protecting against damage from large piles of brush or jagged scrap.
With the universal, self-cleaning Quik-Tatch™ easy attachment system found on all John Deere skid steers, CTLs and compact wheel loaders, the machine can easily add and remove the root rake in no time. The new attachment is also backed by John Deere parts, service and warranty coverage.
Okay so there you have it the new Root Rakes from John Deere. Now if you are a big John Deere fan and only buy into the John Deere brand then have at it, however if you are looking for an alternative that is just as good if not better than you might want to check out our Bradco Skid Steer Root Rake & Grapple or our Construction Attachments XTreme Duty Root Grapple 1RG!
Bradco Skid Steer Root Rake & Grapple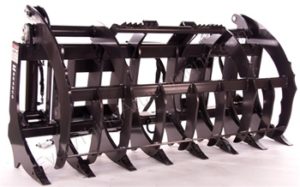 Like the John Deere rakes these are available in 72″, 78″, and 84″ sizes. The Bradco Skid Steer Root Rake has a universal skid steer quick attach, upper push-bar, aggressive profiles with H&L-230 style teeth, zinc plated, greasable, pivot pins with protected grease zerks, and replaceable hardened steel bushings. Weld on D-ring for numerous applications and a 2 year limited warranty! To learn more about this Skid Steer Root Rake & Grapple check out the product page over at EverythingAttachments.com
Construction Attachments XTreme Duty Root Grapple 1RG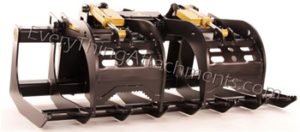 This extreme grapple comes in 66″, 73″ 78″, & 84″ with the number of tines ranging from 7 to 10 depending on the size grapple. A universal skid steer quick attach mount for easy mounting and dismounting. 3000 lbs of clamping force at 2000 psi and a 43″ grapple opening to get those larger objects. The bottom tines are crafted out of 1/2″ A572 steel and the grapple tines are made of 3/4″ A36 steel. To learn more about this Skid Steer Root Rake & Grapple check out the product page over at EverythingAttachments.com
Share